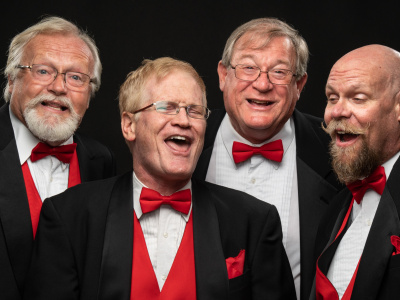 Crescendo is a quartet that specializes in barbershop style music from the 50's, 60's and 70's.
Kevin Koczka (tenor) is a long time barbershopper who resides in North Buffalo.  Kevin has won numerous awards while singing with a variety of quartets. He enjoys sailing in the summer and loves to perform in area musicals.  Kevin is the tenor section leader for the Friends of Harmony. 
Ed Lyons (lead) lives in Amherst and has been with the Friends of Harmony for 17 years.  His greatest joy in barbershop is singing with his son Evan.  Originally from Hyde Park, he has lived in the Buffalo area for 40 years.
Adam English (bass) lives in Tonawanda and has been singing barbershop for about 3 years.   He has extensive experience in musical theatre and is a professional caricature artist.
Pete Hart (baritone) resides in North Buffalo. Pete and Ed were classmates and fraternity brothers at RPI in the mid 70's.  Pete is a very accomplished singer and musician and serves as the assistant director for the chorus.