Submitted by Brandon Borden on
Barbershop music originated from hymns and folk songs in the south, evolving into quartet-focused harmonizing in the late 1800's, and continued its transformation as it spread across the United States.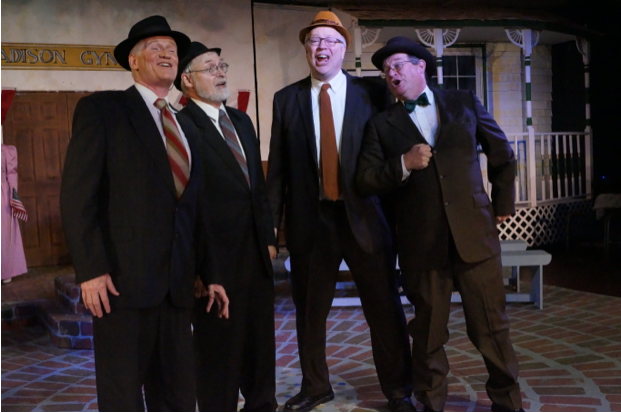 In the early 1900s, Tin Pan Alley era music appealed to average singers, gifting them with an easily harmonized, enjoyable song, often accompanied with a instrumental arrangement for a piano or ukulele. Songs from this era made it easy to harmonize in the home, at community gatherings, and even in military service. With the introduction of the phonograph, barbershop music began to spread throughout the country.
Current Friends of Harmony member Peter Hart explains the importance of songs focused on harmonization and during the early years of "barbershop" music. "Before the TV, the piano was the center for entertainment," he explains. "Songs such as 'Down by the Old Mill Stream' or 'Working on the Railroad' were typically taught by ear or piano."
According to the A Cappella Foundation, Barbershop Harmony Society, our national society, was formed as the 'Society for The Preservation and Encouragement of Barber Shop Quartet Singing in America' by twenty-six men on April 11, 1938 in Tulsa, Oklahoma to combat the decline in barbershop music. 
"They kept barbershop alive, we wouldn't be singing without it," Peter says.
As the years went by, entertainment began to modernize. Music became more complex as it went into the swing era and Hollywood movie music taking center stage. Song writers were creating more complex songs, far from the simplistic harmonizing that lead to the rise of barbershop music.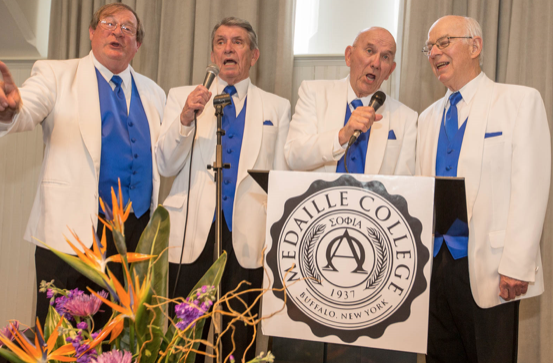 Peter recalls the barbershop style music focus when he first joined the Barbershop Harmony Society."40 years ago, when I joined in my early 20s, we were singing songs from the 1920s and World War I, songs from Irving Berlin and George M. Cohan. We would eventually begin to sing songs from the World War II era. Songs from Frank Sinatra and Louis  Armstrong that were more jazzy and lyrically complex."  
45 years after Barbershop Harmony Society's inception, through a union of the East Aurora and Amherst, NY chapters, Friends of Harmony was born.
What does the future of Barbershop music look like? The future involves change, singing songs that wouldn't have made the cut years ago.
"We have to change and bring in new style of music," says Peter. "Motown music, Billy Joel, Queen, Stevie Wonder, and even more modern songs that wouldn't have been sung, but we have to move forward."