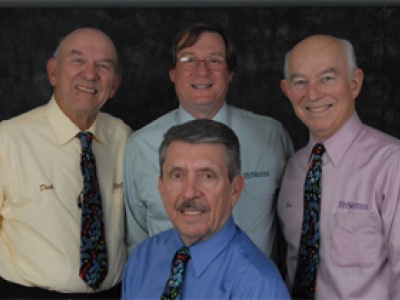 The HyNotes quartet was formed several years ago to help with Singing Valentine's Day songs. It was formerly organized and registered in 2006 with the Barbershop Harmony Society.
Pete Hart (tenor) is a graduate of RPI, an engineer with the NYS Department of Transportation and is a true catalyst for singing good chords. His energy is contagious as is his deep knowledge of the barbershop craft.
Ben Elliott (baritone) is a graduate of  the University of Michigan and a former US Naval Officer. Music has been a constant in Ben's life and singing barbershop has deepened his appreciation for four part harmony.
Dick Westlund (bass) was Chief Engineer at Channel 2, WGRZ-TV.  When he isn't singing, you can find Dick on the golf course any day of the week.
Don Ehrenreich (lead) is a graduate of St Bonaventure University.  He recently retired as Business Manager at Nativity BVM Church in Clarence and sings tenor in their adult choir. He spent three terms as President of the Friends of Harmony and is now the chorus manager.